ServiceNow is a popular cloud-based SaaS automation platform that allows enterprise companies to embrace digital transformation for various use cases, both for internal and externally facing applications including managing customer experience, employee experience, and operational optimization.  Service now has just under 8000 customers including 85% of the Fortune 500.  An entire ecosystem of developers and engineering teams focused exclusively on building on the ServiceNow platform has emerged.  xtype is a software delivery platform built exclusively for ServiceNow to allow enterprises to embrace agile and DevOps-focused methodologies.  xtype provides unprecedented visibility for ServiceNow environments, synchronization, simplex deployments, release packaging, and change management integration while ensuring compliance regulations are met.  The company has been able to grow revenue 4x over the last fourteen months and counts companies like Zurich Insurance, Heineken, Cemex, Abbott, BMO, CBC, Roche, HP, and Wells Fargo.
LA TechWatch caught up with xtype CEO and Cofounder Ron Gidron to learn more about the business, the company's strategic plans, latest round of funding, and much, much more…
Who were your investors and how much did you raise?

This is a seed round that brings the total investment in the company to date to $10.8M.
Tell us about your product or service.
Today ServiceNow teams struggle with environment inconsistency which inhibits their ability to deliver at speed. xtype provides native ServiceNow products that offer massive scale and acceleration on the ServiceNow platform. xtype provides multi-environment visibility, controlled instance synchronization,
zero-touch deployments, accelerated delivery, and enhanced governance.
What inspired the start of xtype?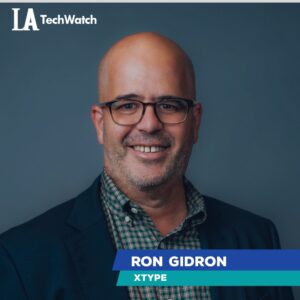 Peter, Tobi (my awesome cofounders) and I have spent years in enterprise IT and DevOps and admired ServiceNow. We were embedded in the ecosystem for a long time and you could say that the problem chased us., We talked to many users and realized there is a real wide need for a solution – then we just picked up the glove and ran with it.
How is it different?
xtype is designed from the ground up to serve the needs of ServiceNow teams, so instead of a generic product that supports ServiceNow we built a ServiceNow native product.
What market you are targeting and how big is it?
There are over 7000 enterprises building on the ServiceNow platform and we're targeting these organizations.
What's your business model? 
We sell yearly subscriptions to our platform.
How are you preparing for a potential economic slowdown?
xtype is designed to bring efficiencies and high scale, we are a natural fit into an efficiency driven environment.
What was the funding process like?
We raised off the back of a year of growth. We increased our revenue by more than 4x and started signing up brand name customers and regular 6 figure deals, so it was pretty straightforward.
What are the biggest challenges that you faced while raising capital?
We have always focused on our customers and our ability to sell software. Solving for this made the process relatively easier.  We also partnered with existing investors who were happy to participate and re-invest in this round.
What factors about your business led your investors to write the check? 
The fundamentals and the fact that we executed on our agreed-upon milestones. 
What are the milestones you plan to achieve in the next six months?
We are entering a new phase of growth for the company now and all the focus is on scaling smart and efficiently. We have very ambitious goals.
What advice can you offer companies in Los Angeles that do not have a fresh injection of capital in the bank? 
Focus on your fundamentals, the days of ZIRP (zero interest rate policy) are over and there is no guarantee of the next check. Focus on customers and sales, make sure you have more than great potential, but also a viable business.
Where do you see the company going now over the near term?
We are continuing to expand in the ServiceNow ecosystem.
---
You are seconds away from signing up for the hottest list in LA Tech!
---